Vol. 11 by Melissa Levin.
ART TALK FOR ISE CULTURAL FOUNDATION:

LARISSA BATES

Larissa Bates is a remarkable painter. She is deeply engaged with process as well as narrative and her paintings describe a particular fantasy world. With the history of painting at her brush's tip, from Poussin to Persian miniatures, she combines landscape and portrait (and sometimes science fiction) with a style that is both formal and outsider. Tiny figures repeat, reappear, dominate, fold, attack, cry, capture one-another, and hold each other. They are leaders and followers, soldiers, babies, and wrestlers. All of Larissa's characters are men. She explores masculinity (and therefore, in a way, femininity) in an untraditional way ? extracting stereotypes and creating allegories to define their roles. Women aren't usually present in the paintings, but as a woman, Larissa's presence as the creator is keenly felt ? she controls her characters' bodies and actions, but also let's them lead the way though the landscape.

Larissa's paintings are intricately detailed, profoundly imaginative, considered creations. In a recent series of miniature paintings, wrestlers struggle against a background of craggy mountains and billowing clouds. The palette is muted and limited. The same form repeats to create muscle, boulder, and sky, making a nearly seamless scene. The lines in this work are careful but soft and the surfaces of the paintings undulate.

Yet in other paintings, Larissa's lines are harder and colors are more saturated. The surface pops. Her Napolean characters (who reappear throughout different series) appear here in their uniform black and white, standing out from a dense green ground and a deeply royal blue sky. This landscape contains brightly colored plants, flowers, and trees in their most distinctive form ? like idealized versions of the ones found in the world.

In the world of Larissa's paintings incongruous events occur with the most perfect nonchalance. Wrestlers appear in the mountains ? a goat might be observing their fight. Beams from without might point to moments of contact. A group of "Lederhosen boys" hold a seance, bolts of electricity growing from their hands. Despite the paintings' small scale, once you enter, they are completely consuming.


■MELISSA LEVIN
MELISSA LEVIN BIO
MELISSA LEVIN is an independent curator, writer, and arts manager. She is currently Program Manager in Lower Manhattan Cultural Council's Artist Residencies Department, overseeing the Workspace studio residency program for emerging visual artists and writers. Melissa received her BA in Visual Art and Art History from Barnard College. Previously, she worked at Artforum International Magazine, Andrea Rosen Gallery, and The Whitney Museum of American Art. Melissa has curated shows at Cuchifritos Gallery, ISE Cultural Foundation, Andrea Rosen Gallery, LMCC, and Taylor De Cordoba Gallery, Los Angeles. Melissa also writes for Sadie Magazine.

works
http://monyarowegallery.com/artist.php?aID=1&idx=4
http://monyarowegallery.com/artist.php?aID=1&idx=11
http://monyarowegallery.com/artist.php?aID=1&idx=19




■Larissa Bates(b. 1981; American) received a BA from Hampshire College, Massachusetts
Bates recently exhibited her third solo exhibition at Monya Rowe Gallery in New York, a solo exhibition at The NADA Art Fair in Miami and has also had a solo exhibition at Richard Heller in Los Angeles; recent group exhibitions include Bravin Lee and Anna Kustera Gallery both in New York, Bendixen in Denmark and The Ulrich Museum of Art, Kansas, among others. She recently completed a juried residency at Lower Manhattan Cultural Council. Her work has been reviewed in The New York Times, ArtForum, The Los Angeles Times and New York Magazine, among many others. Bates currently lives and works in Brooklyn, New York and is represented by Monya Rowe Gallery in New York.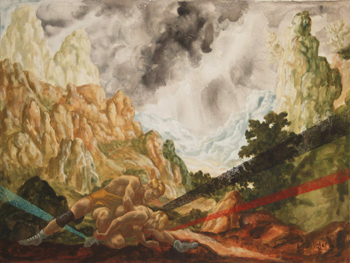 Untitled(AfterKerstiaendeKeuninck'sMountainousLandscapew_Waterfall)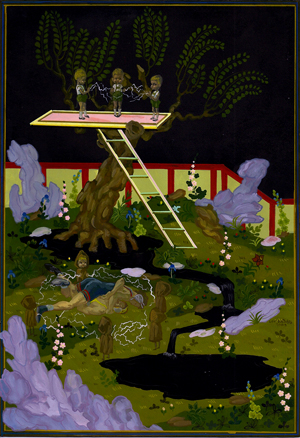 Bates_Cloaked Lederhosen Boys Electric LOWERShock Seance _72