Vol. 7 is Don Porcella, contemporary artist.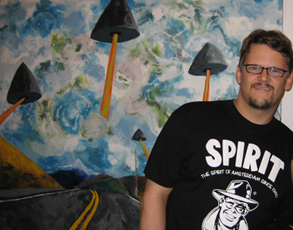 My name is Don Porcella and I am an artist living and working in New York City. I was lucky enough to be invited to submit artwork for the ISE Cultural Foundationfs Summer Student Art Exhibition of 2005. I was attending the Hunter College MFA Program in 2005 and the curators from ISE came to my studio during open studios and encouraged me to submit artwork. I was making paintings and sculpture, so I put one of each into the ISE exhibition.

The people at ISEfs NY Gallery were so helpful and supportive of me and the other artists in the exhibition. There were lots of people at the opening and my work was well received. During the exhibition a gallery from Paris, France came to see the exhibition and liked my art. The staff at ISEfs NY Gallery were nice enough to put the Paris gallery in touch with me and the Paris gallery offered me to be in a group show in Paris during the summer of 2006. In 2007, this Paris Gallery took my art to Art Liste 06 which is part of the Frieze Art Fairs in London, England. This all happened as a result of being in the ISE Summer Student Art Exhibition.

The location of ISEfs NY Gallery and wonderful staff facilitate a rich interaction with the international art world and community of NYC. To this day I still enjoy a great relationship with ISE and they have helped me to be the international artist I am today. Through the ISE Summer Student Art Exhibition, I have made connections in Paris, France and Japan. These connections have helped me to understand how my art fits into an international art world and how best to communicate my ideas in a global economy.

Since the 2005 ISE Student exhibition I have had a fantastic response to my art. I credit ISE Cultural Foundation with being one of the first art institutions to recognize me. My artwork has been exhibited in New York City, Berlin Germany, London, England, East Hampton, NY, Paris, France, Portland, Oregon, Washington D.C., San Francisco and Oakland, California. The West Collection recently purchased my entire installation at the 2008 NEXT Art Fair in Chicago. Art collectors include The West Collection, Jean Pigozzi, Beth Rudin DeWoody, Joel and Shery Mallin, Douglas Maxwell as well as other collectors and collections in Europe, Asia and the United States. I have recently been featured in several publications from Israel, France, Japan and the United States.

In 2005, my first New York City Solo Show at Planaria Gallery was favorably reviewed in the New York Times. I recently received favorable reviews in NY ARTS, Chelsea Now, San Francisco Magazine and the Village Voice recently reviewed two of my exhibitions, naming one Best in Show. I recently had shows in New York, Miami, Berlin, San Francisco and at The Hudson Valley Center for Contemporary Art Auction at Yvon Lambert Gallery. I am currently in the group exhibit, Playing Around at Brattleboro Museum in Vermont in addition to 2 group shows this summer in New York City, a two-person exhibit in Richmond, Virginia planned for September 2009 and a solo show in Berlin, Germany in October 2009.