◆LEAN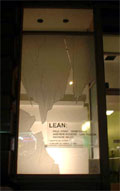 Exhibition featuring works by
Paul Chan, Isami Ching, Andrew Rogers, Lan Tuazon, and
Kehinde Wiley

Curator:
Eungie Joo

Opening Reception:
Saturday, February 22, 2003, 6-8pm

Exhibition Dates:
February 22 to March 29, 2003
Event:
Artist Talk March 15, 2003, 3pm
The Ise Cultural Foundation presents LEAN: Paul Chan, Isami Ching, Andrew Rogers, Lan Tuazon, and Kehinde Wiley:
An exhibition that strives to explore an aesthetic cooperation between works, prioritizing the relationship between the visual and conceptual logic within. Works include figurative painting, photography, sculpture, new media and film.
---

Lean is a curatorial effort to explore the concept of aesthetic cooperation between works, one that prioritizes visuality and how visuality might relate to and expand our grasp of the conceptual logic practiced within a work. Paul Chan, Isami Ching, Andrew Rogers, Lan Tuazon, and Kehinde Wiley approach the formal conventions of their respective media with an analytical curiosity that destabilizes the reliability of codified forms. While theirs are not simply deconstructionist agendas, the artists' engagements with structural convention question the efficacy of our visual language urging us to reconsider societal systems and our relationship to the natural world. Lean addresses formal aesthetic conventions in contemporary art practice as a vehicle of communication, drawing upon practitioners of abstract and figurative painting (Wiley), landscape photography (Rogers), sculpture and performance (Ching, Tuazon), and new media/film (Chan).

---
---

Paul Chan explores utopic desire, forms of communication, and exchange in his work. Chan creates animated characters, computer fonts, and substitute narratives that are in and of themselves systems of knowledge. For this exhibition, he will show prints from Alternumerics (2001). In this project, Chan developed several different fonts for word processing that translate everyday text into linguistic and gestural drawings. In Map of the Future I-IV (2002), Chan has applied his most complicated font, The Future Must Be Sweet, After Fourier. This font was developed by combining the major tenets of the utopian philosophy of Charles Fourier (in order of their significance) with statistical information on letter usage and the frequency of letter combinations in the English language. To this Chan added the element of drawing in three-dimensions: straight lines that "connect" ideas into a continuous system, thus creating a kind of narrativity within the structure of a word or idea.

Isami Ching is interested in concepts of ambiguity, masquerade, humor, and the accidental. His work addresses notions of order, the confluence of forces behind a sculptural gesture, and the relationship between the viewer and the charged space around a sculptural object. In Correspondence (2001), which will be presented as part of Lean, mechanized scissors sit atop a ceiling beam. We hear the sound of the scissors' snips at 40-second intervals, as thin strips of paper tumble in the air, wafting to the gallery floor like seedpods. The strips contain fragments of text, an incomplete "Dear Jane" letter reconsidered as tens of thousands of temporal gestures descending gracefully across time, space and intent: object becomes function, text becomes object, repetition becomes form. While his investigations accept the viewer's employment of prejudice, assumption, and simplification as a kind of defensive system of order in the face of infinite possibilities, Ching's work continues to strive for a purer, more immediate state of interaction.
Combining the detached, objective language of documentary photography with a rich, painterly palette, Andrew Rogers' luscious chromogenic prints explore the built environment as natural landscape. In Landscape, Geological and Other Features (2002), Rogers employs a low perspective "to give the sense to the viewer that they do have access, that there is no such thing as private property, borders and barriers...The site existed to me as a kind of metaphor for another world, much in the same way the western landscapes functioned for the early photographic explorers. And it exists in reality as another world, no longer what it has been and not yet what it will be. Not only a place in transition, but also a new creation in and of itself." Focusing on spaces in transition, Rogers strives for a relationship between the viewer and image that is concrete and physicalムa relationship to the landscapes pictured; a relationship to an uncontainable present.
The concept of aesthetic cooperation at the core of Lean necessarily relies upon a dynamic interaction between works. Central to the project is the work of Lan Tuazon. Tuazon's work in photography and sculpture has explored the narrative and ethnographic in search of a new form of exchange between subject and artist, between representation and object. She has also come to think about public space and the sometimes contentious social agreement of the appropriate behavior for those spaces. Tuazon's drawings on acetate suggest the artifice of architectural and social order and its power to erase reality. Depicting crumbling walls and shot out glass in a cartoonish style, and applied directly to the surface of walls and windows, these images reject the complacency of our flat world. Tuazon's works will be made in dialogue with the exhibition floorplan, interacting with the physical location of other works in the gallery.

---
---

Kehinde Wiley's works admit an early interest in Neoclassical and Romantic painting as escape, spectacle, and representations of beauty. But his are also about absolute or free play ? la Peter Halley and Mel Bochner. Relying on pastels and ornament, Wiley explores the dissonance between object and original, past and present, and fore- and background, offering a self-consciously delicious brand of portraiture that is smart, witty, and scathing. Combining the flamboyant motifs of French rococo, classical figuration, and a lively engagement with color to address representations of masculinity and beauty, he admits, "I see now how I critique and embrace the same traditions, like sibling histories. I like to think of history as a rhetorical device.# As they lure the viewer into a complex web of aesthetics and social critique, Wiley's elegant, elaborate works question the very plausibility of figurative painting as a gesture and the relevance of beauty and aesthetics as systems of comprehension.

Eungie Joo is a curator and writer based in New York. She has curated Widely Unknown at Deitch Projects (2001) and the 2002 MFA Thesis Exhibition at Columbia University. This spring she is co-curator of Time After Time: Asia and our Moment with Doryun Chong and Rene De Guzman, which opens April 2003 at Yerba Buena Center for the Arts, San Francisco.

Venue: Ise Gallery, 555 Broadway, New York, NY 10012
Gallery Hours: Tuesday through Saturday, 12 noon-6pm
Admission Policy: Unless otherwise noted, all events are free and open to the public
Contact: David Squeri at (212) 925-1649 squeri@isefoundation.org
The Ise Cultural Foundation: Established in 1983, the foundation is a non-profit organization with the goal of promoting projects dealing with current issues in art and culture. Gallery actives include financial and material support for exhibitions reflecting a wide scope of themes within the framework of contemporary art.